I would like to preface this post with a caveat and dispel any preconceived notions that "giving" (or any random act of kindness, for that matter) is easy. Actually, I take that back. A random act of kindness probably IS easier, for the simple fact that it is just that: random. But I am finding that this 29 Gift project is hard!
Admittedly, I am really trying to challenge myself in each of my "gives" and perhaps that is why I am finding it difficult to maintain awareness of opportunities where I might be of service to others. For the most part, I consider myself a pretty friendly person; I smile at strangers regularly, I often hold doors open for people and I tend to wave a parade of cars in front of me when I'm driving (to a fault, because I've had impatient drivers behind me lay on the horn in my efforts to let people into traffic - sheesh). But in my quest to participate in this challenge, I don't want to rely on everyday gestures as my "gifts", because these are things I would do on any given day. So that's where I'm having trouble; I want my gifts to be purposeful, beneficial, with intent for the greater good...and creative, when they can be.
When I wake up in the mornings and start my day, I'm often praying as I'm getting ready (I know, that's pretty sad, huh? I really need to work on setting aside uninterrupted time specifically for prayer and devotion), asking God for His help in keeping my eyes, ears and heart open for opportunities to do good. I want to be especially mindful and present so that my gives don't fall rote or forced in their intent.
* * *
My gift for Day 5 was $10.
See this?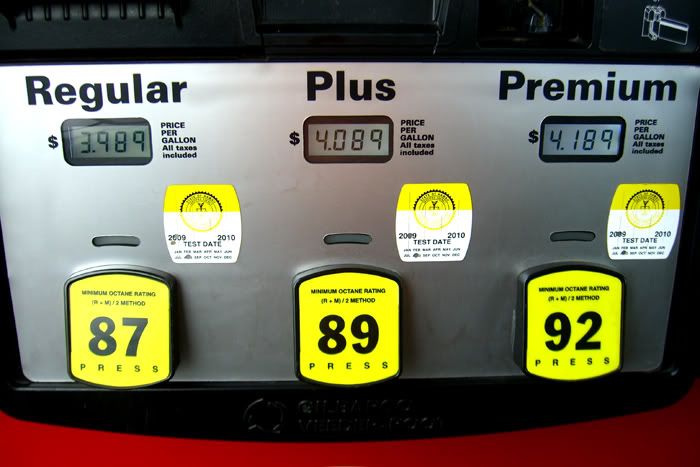 The price you pay for gasoline here on Maui. And it fluctuates nearly every day; it's been on an upward trend in the last two weeks, with predictions of hitting $5.00/gallon late this year. Awesome.
As I waited in line to pay to fill up my tank, I noticed the woman in front of me. Seemingly frazzled, she was balancing a toddler on her hip and a sippy-cup in her left hand, while counting out a handful of change with the other. "I need to get upcountry and I only have $1.74. Can I just get that much in gas? I lost my wallet." For those who are curious, depending on where exactly "upcountry" she lived, it was easily 15-20 miles from where we were. And $1.74 would only buy her fumes.
At that moment, Gift #5 presented itself. I handed the cashier a ten dollar bill and said: "Better make that $11.74". The woman turned to me with a look of relief and a flood of thanks. She gave me a hug which I gladly accepted, because HUGS ARE GOOD!
Today's Gratitude List:
1) Recent blog awards!
2) The simple joy and abundance of fresh fruit: healthy and clean eating. Today's pear was one of the best I've had in a long time!
3) Another "checking in" text from my beautiful friend, Noa (thank you, Love!)