My intent was to post this last night, but once Phil & I got home from work yesterday, I made the spontaneous decision to just unplug. It is refreshing to do this every now and then; a nice respite from my habitual over-indulgence of the internet. We had a great night together, enjoying dinner and conversation infused with the familiar banter that drew us to one another when we were just kids. I love my husband...and I resolve to do this more often.
* * *
Quite simply, my gift for Day 3 was the gift of persistence. But first, a little history and backstory:
Have you ever found yourself in a friendship that, in the beginning, was everything you could ever want and hope for in a joining of souls? One that was fueled by an equal exchange of love, laughter, effort and time, but then somewhere down the road, they just shut down and close-up without so much as an explanation as to what went wrong?
I have a friend from as far back as middle school, who I ended up reconnecting with my freshman year of college. Having gone to different high schools, we understandably lost touch but on my very first day of college, walking into a full biology class in an intimidating, stadium-like setting, my eyes scanned the crowd for a quick deliverance only to land on her: her familiar and smiling face, waving me over to the empty seat beside her...and my heart leaped.
For four years, we were inseperable. We did everything together, from studying, shopping, road-tripping, sneaking into bars while underage (it's a rite of passage!) and spending hours in coffee shops just talking and laughing and loving being friends. Our friendship had an easy momentum that only grew with time. We saw one another through graduations, heartbreaks, jobs, a cancer-scare, weddings and eventually, her acceptance into Grad School, which inevitably meant that she would move hours away from me.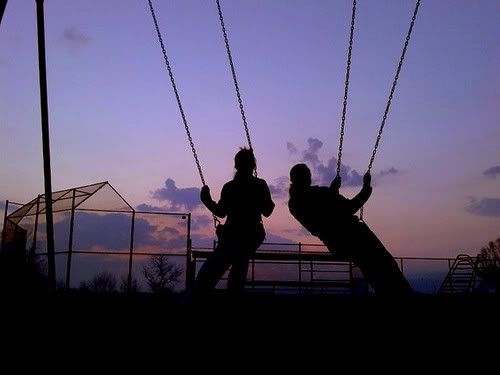 That first year, we kept in touch with phone calls and emails, visits over the holidays and then seemingly overnight they waned, until *POOF* they were gone. It was like a messy, bad breakup and I was heartbroken. I reached out - continually - with letters, cards and emails and occasionally, she would throw me a bone; a photocard at Christmas (but no note), a casual "hi, I miss you" on Facebook, a short and cryptic email that read: "let's reconnect. i miss you, i miss US". but that was it. And every time, I responded. I sent the return messages over Facebook, I sent the return emails, and every year on her birthday, I sent cards telling her that I missed her and I was thinking about her. And I waited. And I got nothin'.
Last year, I stopped. Everything. I was torn; not only was my ego bruised and my pride wounded, but I also felt incredibly foolish. Perhaps the friendship had run its course and long ago served its purpose...why was I trying to relive the past?
But I can be stubborn sometimes. Yesterday morning, as I was looking at my calendar at the fresh, new month before me, I realized that it was her birthday. I contemplated - for all of 2 minutes - before deciding that I would try one last time (clearly, I am a glutton). So I sent an email with only 3 words: "Happy Birthday, _______".
The "gift" in all this can easily be lost in all the verbiage and emotion and I honestly can't quite say that this "gift" was directed solely to her, or if I was giving it to our past, or in the name of friendship, altogether. But it felt like the right thing to do at the time, because I couldn't NOT acknowledge her birthday while I was sitting there thinking of her. I still love her and I still miss her - that much hasn't changed.
And in this gesture, I received a gift in return.
She responded. :)
* * *
Today's Gratitude List:
1) Receving a $25 giftcard from Chris. Just because.
2) Hitting all the green lights on the way to work.
3) Receiving a text (and photo) from my Momma showing me the kitty they "adopted" (YAY!)