My gift for Day 27 was the gift of a Gumball. :)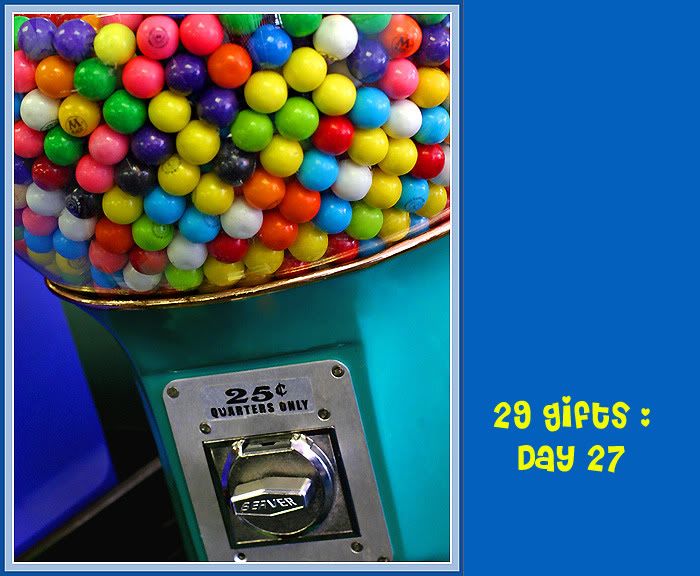 Day 27 found me at the coffee shop getting a refill of my java. I was "zoning out" (I honestly don't remember how long I must have been standing there!), lazily stirring the cream and sugar in my cup when I noticed a little girl beside me, gazing at the gumball machine in front of her. She turned her head and asked her Mom: "Mommy, can I have a quarter for the gumball machine?" Her mother rifled through her wallet for some time before announcing that she didn't have any loose change. And this is where everything changed; at the risk of sounding narcissistic, I'm going to share these thoughts with you, anyway.
The little girl, upon hearing that she wouldn't be able to buy a gumball, silently turned back towards the gumball machine, her eyes filling with tears. She didn't say a word, just kept staring at those brightly colored balls. For a split-second, I saw a five year old ME. I remembered a similar situation when I was younger (wanting a treat but my parents not having the money on them to buy it) and I SO vividly remember the silence...the effort to hold back those alligator tears, but letting them roll down my cheeks anyway, because afterall, disappointment like that is enough to make any four or five year old cry, right?
I wanted to hug the little girl (but didn't...STRANGER DANGER!); I leaned over to her mother and respectfully asked if she wouldn't mind me buying a gumball for her daughter. Smiling, she agreed, so I gave her daughter a quarter so that she might have one of those beloved gumballs. She accepted the quarter timidly and said quietly: "Thank you, Auntie." [Out here in Hawaii, it's common for children to address elders as Auntie or Uncle out of respect]
Hand to heart...this gift was all mine.
* * *
Today's Gratitude List:
1) Evening BBQ with friends!
2) The Hubs bought chips and my FAVORITE mango-peach salsa.
3) Receiving the gift of a book from my friend Nick - I love his name :)