My gift for Day 22 was the gift of Water.
On this particular day, I made my daily visit to the gym to get in a good workout. I had parked my car in the back parking lot and had just grabbed my gym bag from the trunk of my car when I heard the high-pitched whining that felt like a punch in the heart. Following the noise, I found the little dog tethered in the back of the pick-up truck. My assumption is that the owner was inside the gym getting their workout, leaving their pup in the bed of the truck to wait it out.
I won't go into detail about how much this infuriated me as I am sure you can come to your own conclusion. It was early afternoon when the sun was at its peak, so one can surmise just how hot it was. I mean, it's MAUI for crimeny's sake.
Without so much as a second thought, I pulled my wide-mouth water bottle from my gym bag; I had filled it with ice water prior to leaving our house, so the ice cubes still danced in the container, doing their job. I unscrewed the cap to the bottle and leaned into the bed of the truck, inviting the pup to take a sip.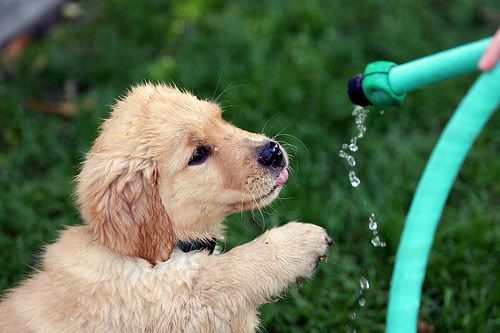 (totally not my photo, but it captures the incident quite well!)
I expected the pup to hesitate, but he/she immediately came forward and greedily drank from my bottle, while I whispered soothing words as if he/she could understand what I was saying.
I don't know the full story, how long the truck had been parked there, when the last time was that the pup had something to drink, so in all fairness, I can't say that the owner was being irresponsible. All I CAN say is that seeing a dog panting under the hot sun while tied to the bed of a pick-up truck really broke my heart. If it were my pup, I'd have at least left a bowl of water for them while they waited.
* * *
Today's Gratitude List:
1) Being at the right place at the right time.
2) Enjoying an awesome workout at the gym.
3) Receiving an email from my oldest and dearest friend, Marina.