The division of labor in our house runs like so: we both work to contribute towards our living expenses, I do the bill-paying, grocery shopping, cooking and kitchen clean-up, The Hubs throws out the garbage, drops off the recycling every week, kills bugs, cleans the bathroom, gives Grace her regular baths, washes, folds and puts away all the laundry (reason # 9,345,308 why I love him). This system has worked for us for years.
On this particular day, I was off work and spent a couple hours in the morning reading, blogging and enjoying my day of leisure. Phil has been working longer hours in the last couple of weeks in preparation for a barrage of distributor meetings lined up for this week and next. As a result, each night after dinner, he often fires up his laptop and spends another couple of hours working, while I may or may not be sitting on the couch watching absolute trash on TV (Bachelor, anyone?).
My gift for Day 20 was a gift to my husband. The gift of being The Good Wife.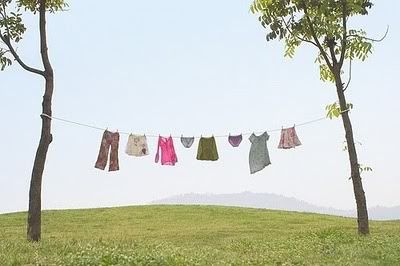 Once I decided what my gift would be, I went on a 5-hour rampage; I washed, folded and put away all the laundry, cleaned the bathroom, the kitchen and the refrigerator (we are not dirty people, but HOW the refrigerator happens to get filthy, I have yet to figure out), made a fresh batch of iced-tea, lit candles, had fresh flowers displayed on the tables and had dinner cooked and ready to eat by the time he got home. And it made me feel really, really good.
To see the look of gratitude on his face when he rattled off, one-by-one, all the things he noticed I'd done...it was just priceless. By giving this gift, I received a little refresher course in learning not to take your spouse for granted. It is so easy to get caught up in our own responsibilities and obligations, so easy to allow ourselves to get wrapped up in activities that, over time, if not addressed, could threaten to challenge an otherwise loving and mutually respectful union.
I spend a lot of time doing "my own thing"; this has always been my nature. I immerse myself in activities that often require solitude: reading, painting, photography, writing, blogging. And while this is nothing new and Phil often encourages me to pursue that which makes me feel creatively fulfilled, I am reminded that there is a time and a place to put those things aside and just focus on HIM.
My husband is a good man; he is selfless and giving and so generous with everything he has to offer me. On Day 20, it was all for him. We shared a quiet, candle-lit dinner together over a bottle of wine and good conversation.
And it was bliss.
* * *

Today's Gratitude List:
1) Inspiration = Productivity.
2) A sparkling, clean home.
3) My husband.