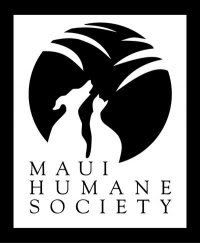 I "Like" Maui Humane Society on Facebook and oftentimes I will peruse the photos of cats and dogs awaiting adoption. Why I torture myself like this, I don't know, but it's along the same lines as allowing myself to sit through and watch those depressing, sob-inducing commercials put on by the ASPCA (you know which ones I'm referring to, right?). This morning, after looking through the new weekly photos of patient souls waiting to be loved, I lost it.
So my gift for Day 2 was a financial contribution to the Maui Humane Society. This non-profit corporation has always hovered near the top of our list of charitable organizations that we choose to support; given the limited resources we have on such a small island, this particular chapter relies heavily on community donations to fund daily operations and ongoing education and adoption programs.
Phil and I realize that there are scores of other charities we can support and while we do have our long-standing relationships with some, we share a mutual, unspoken agreement that our favor lies with animals in need. I suppose it is fair to say that we might feel differently if we had never adopted Grace from the Humane Society eight years ago, but for now, this works...for us.
I have written a post about MHS before; I can't reiterate enough how grateful I am for their mission and for the staff of volunteers who work tirelessly in their efforts to find healthy, loving homes for the countless animals in their shelter.
If I could save them and adopt them all, I would. But I can't, so for now donations will have to suffice. We're just trying to do our small part to spread the love. To people and animals, alike.
* * *

Today's Gratitude List:
1) Being employed = Ability to make donations.
2) The thoughtful email I received this morning from my friend Sarah (I love you!).
3) Waking up to soft kisses on my cheeks and nose from The Hubs, opening my eyes to see his smiling face and hearing him say: "Good Morning, Love."