I am woefully behind in posting (what else is new?) but I will spare you the excuses and get right down to business!
My gift for Day 19 was the gift of Hospitality. Some of you may be familiar with Ross's blog (Painfully Optomistic), where he chronicles his daily life while living with CRPS (Complex Regional Pain Syndrome). Ross sent me an email about a month ago letting me know he and his wife would be vacationing in Maui and would I be able to give him a few recommendations on things to do while they're here?
We traded a few emails and I suggested he pick up a copy of Maui Revealed, a resourceful book that we have found helpful. Ross wasn't able to track down a copy of the book where he lives, so therein lay the opportunity for my gift.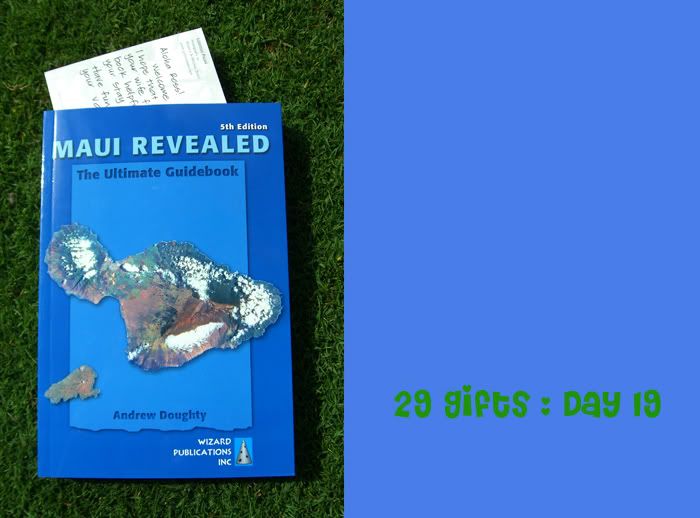 I asked Ross for his condo information and made arrangements to drop off a copy of the book so that he had one on hand when he checked in. I picked up a fresh copy from the bookstore and filled out a small postcard welcoming he and his wife to the islands.
Ross, I hope you're relaxing and enjoying your well-deserved vacation. Aloha!
* * *

Today's Gratitude List:
1) An invitation for a BBQ with friends!
2) Leg-rubs and nose-kisses from Grace.
3) Full moon beauty!