I like to think that I am prompt at expressing my gratitude to others when the situations arise, but sometimes - despite my best intentions - I fail.
In my mind, I have thanked this person over and over, but how is she to know this when I haven't propery expressed it? I have thought about Robyn since our day together in early December. Many of you might remember the post I had written about my dental-hygienist-turned-friend-and-medium. My appointment with her that morning was nothing short of serendipitous; I honestly believe that I might be several steps behind in the healing process had she not given me the gift she did in that moment.
I have written letters to her in my mind but have never put those thoughts to paper for the simple reason that writing about that morning is emotionally draining. But for some reason, today felt right.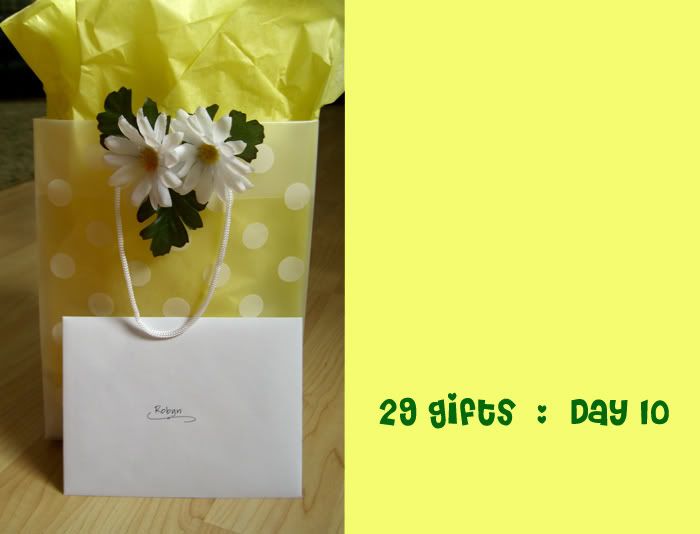 Today I wrote her a proper thank you note, expressing every emotion I felt that morning almost a month ago. And because this 29 Gifts project has me in an exceptionally grateful place, I also picked up a a little something for her from Pier 1 Imports. I perused the aisles this morning with nothing in mind, but when I saw the candle, I knew. When we spoke that morning, we had talked about finding peace living where we do, on this beautiful island surrounded by the tranquil blue ocean. I was drawn to the candle by the beautiful blend of colors alone and when I picked it up, sniffing the fragrance and turning it over to read its scent, I smiled when I saw that it was aptly named "Oceans". The synchronicity is astounding! My mission was accomplished and I paid for it without hesitation. I didn't get to drop it off today, but I'll be delivering it to her in the morning.
* * *
And while on the topic of Nick, I have received a few emails from you asking how I am doing...how I am dealing with the grief. Thank you for asking. I am doing much better overall, but I still have moments where I am taken completely off-guard and can instantly dissolve into a puddle of tears. There was that night last week when I could not restrain myself from clicking over to his Facebook page, only to burst into tears, leaving Phil to mop up the emotional-mess-that-was-his-wife. Why do I do these things to myself? I don't know. What am I looking for when I do this? I don't know. But in some sad (and admittedly) almost-pathetic way, hovering over his Facebook profile and seeing some of his last status updates and picture posts are almost enough to bring me back to before this all happened, when things were "seemingly" okay. I know enough now that they never really were, but this act of visiting his Facebook page and seeing HIS written words...I feel momentarily comforted, tricked into believing that he is still here.
I love you, Little Nicky. And see? I'm still writing.

* * *

Today's Gratitude List:
1) Memories. I can experience them anytime, anyplace and anywhere.
2) My husband. I forgot my lunch today, but he remembered, reminding me at almost noon "to please remember to eat". (I know that sounds weird, but I forget to eat sometimes!)
3) 29 Gifts. Giving makes me feel grateful.

* * *

ETA: I love my husband, the man who has finally come out of hiding and decided to grace me with his presence here at Living Aloha. I love him so much that I won't even comment on his chosen username "Filthy" (as in, Filthy Phil). Niiiiice.

.