The day that I found out Nick passed away, I had just finished reading 29 Gifts: How a Month of Giving Can Change Your Life. I wasn't more than half way through this book when I knew that it was something I wanted to do (if you haven't already, I highly recommend reading it).
Of course, this idea fell to the wayside when my Poppa called me with the news about Nick and my thoughts had become entirely consumed in grief. But still, in the days that followed and even in my darkest hours, there were moments when, like a candle struggling to shine in the breezy, ebony of night, the premise of the book would come to mind, flickering like a tiny beacon of hope.
Today marked 34 days since Nick left us and I'm ready to put these thoughts into action. I know in my heart that if I spent more time thinking about others and less time thinking about myself and my own strife, I'd be a happier person. I am not looking to make any grand gestures that will change the world or prompt some type of global movement, but what I do hope to accomplish if at all possible, is to contribute something - anything - that could improve or change MY world and the lives in it, for the better.
* * *
The 29 Gifts do not necessarily have to be monetary gifts, but rather selfless acts (for the greater good) given with intent. This is a bit of an oxymoron for me, because really, no act is truly selfless. It is nearly impossible to give something without receiving something in return; not necessarily by way of a physical or tangible gift, but something as simple as a sense of gratitude (or joy). I could wax philosophical on this for days, but to gain a true understanding behind this book, you just need to read it...or at the very least, visit the website.
Because I deeply believe that there is a purposeful synchronicity to my reading this book and Nick's passing, I dedicated Day 1 of 29 Gifts to him.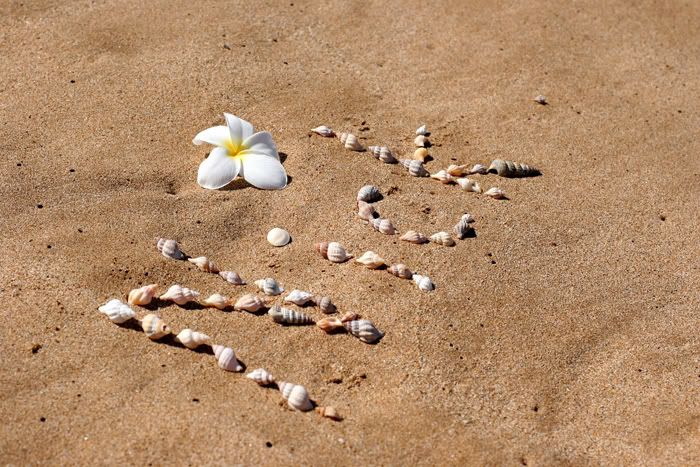 I have a growing seashell collection that has taken residence on the deep window sill of my little art studio. On this ledge, I have mason jars filled with seashells I have painstakingly collected over the last 10 years, many which are rooted with sentimental value in the memories each jar represents. I have always considered these shells as gifts from the sea to me, but deep contemplation coupled with the spirit of this book tell me otherwise.
I took a solo trip to a beach in Makena, armed with a large ziploc bag filled with hundreds of tiny shells. I found a secluded area hugging a graduating wall of black lava rocks, sat down near the shoreline and spent time in quiet reflection. I thought lovingly of Nick. I cried. I prayed.
I emptied my bag of seashells onto the bed of sand beneath me and using a handful of these shells, I spelled Nick's name and said one last goodbye. And I waited out the ebb and flow; I waited until the gentle waves grew closer to me, where they would eventually reach my collection, withdraw and take the seashells with them: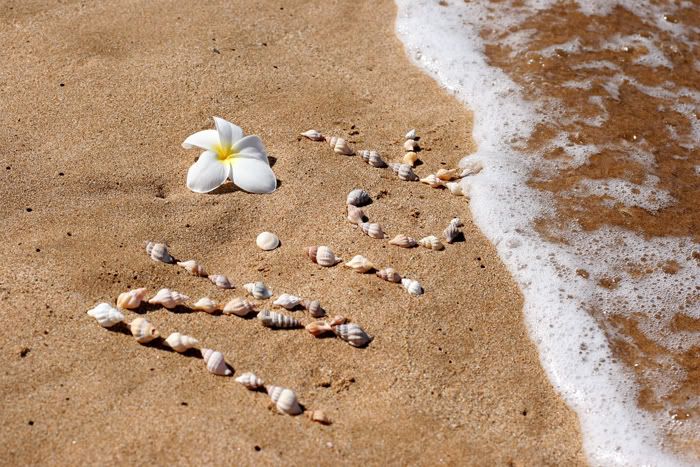 My gift for Day 1? I gave the shells back to the sea.
Because they never really belonged to me in the first place.
* * *

Today's Gratitude List:
1) The love, health and safety of my family.
2) Another double-rainbow.
3) Random "checking-in" texts/emails from my LJ Girls Rachel & Laura.