For me, creativity is a form of play. You muse, dream, imagine, design, get in, get dirty and bring something into existence. And you can do all this with reckless abandon. As much as I love this freedom, the freedom of these wide-open plains to breathe life into something that once wasn't, there are times when I just don't wanna play.
Admittedly, days of creative-less mojo are not lost on me; I've had bouts of writer's/painter's-block that have kept me from crossing the threshold into our spare-bedroom-turned-art studio for weeks (or months!) at a time. I'd walk by the room, glance over at my easel and paintbrushes (whose mockery I'm not certain is imagined), and just feel defeated. Defeated, because, well...I got nothin'.
Days become weeks. Weeks become months. And the months inevitably become GUILT. Guilt at all that wasted space. Guilt at all those unused art supplies. And all of this becomes too much; a not-so-positive pattern of thinking which sometimes results in tears shed and loving, encouraging pep-talks from The Hubs.
But then something amazing happens: inspiration knocks. After weeks of lying dormant, the creative juices that once threatened to harden and crack from misuse are suddenly awake. There is a tangible energy; a buzzing and a need to create.
Life on Maui ANYWHERE is full of inspiration. It is everywhere and in everything, in people and in places; you just have to be open to receiving it. So lift up the blinds and throw-open the windows! The conduit is clear...and you're golden.
* * *
I know a little place here on Maui that is home to three, large peacocks. Exactly who owns these beautiful creatures, I've no clue, but what a sight they are. Some days I purposely make a trip to the neighborhood in hopes of catching a glimpse and being in the presence of the regal...and on some days, I score, shamelessly following the birds with my camera: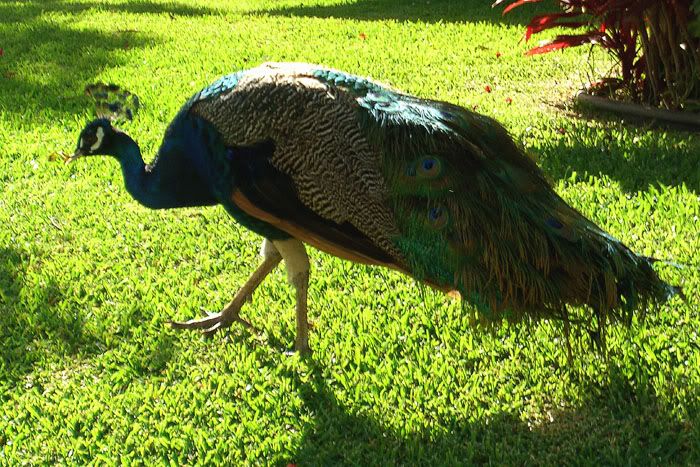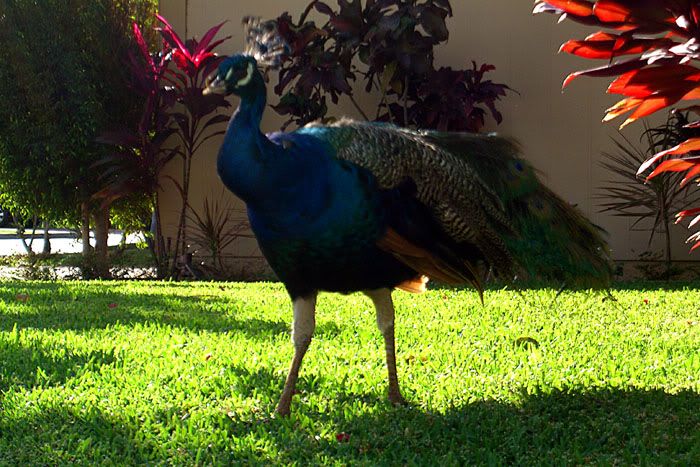 Knock-knock.
You hear that? That's inspiration knockin'. So I raced home and whipped up my own rendition of regal: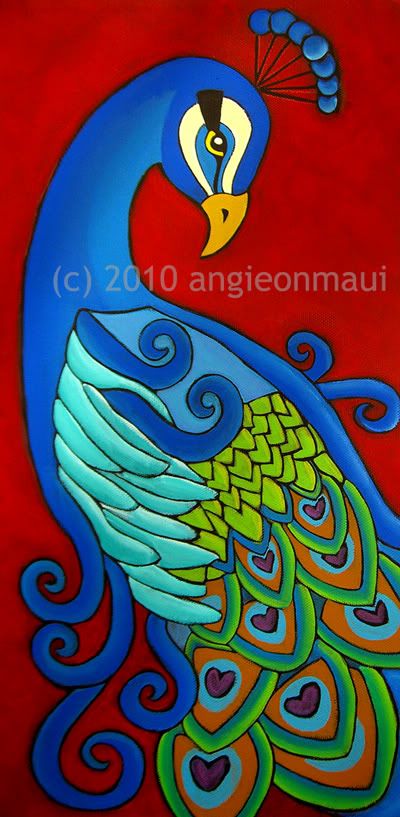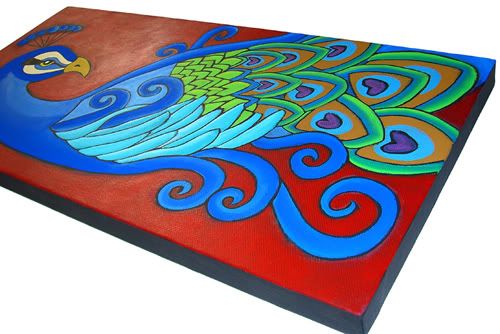 Okay, so truthfully, I didn't just "whip up" the painting; it was a long process with many hours spent layering paint and getting the image from my mind and onto the canvas...but the point is that I was inspired...and I painted because of it.
Creativity has been a-flowing since then. Recently, and for the first time ever, I created artwork for our home. It's a four-canvas botanical spread incorporating the shades of green in our decor. I wasn't sure about it when I finished, but once they were hung up in the living room and I stepped back to get a different view, I can honestly say that I dig it. :)
What inspires you?