Tonight when I got home from work, I raced into the house, peeled off my work clothes and slid into my PJ's (priorities, people), grabbed my camera and went back outside to capture the sun as it made its way further West. It has been hazy and gray here, in that quintessential, almost-Winter, evening-before-Christmas-Eve kind of way, and despite the thick clouds blanketing Haleakala, a small pocket opened up in the sky just enough to allow the burst of orange rays to shine through and say goodbye to another day.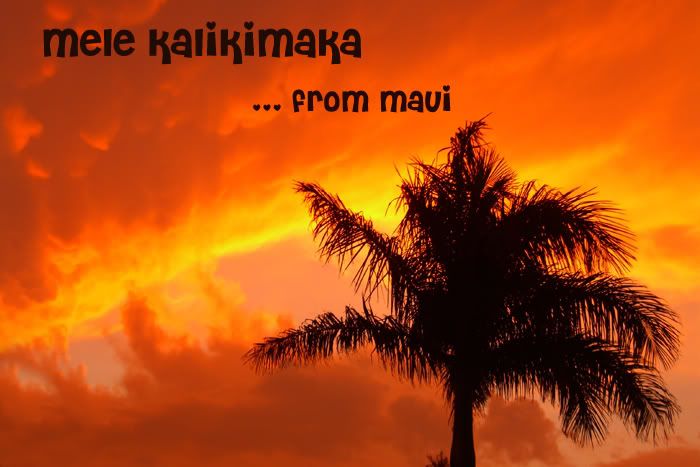 When I am able to steal moments like this, by myself, surrounded by a silence so undeniably still I can hear the sound of my own heartbeat, I feel closer to God. And I am grateful.
I am grateful for eyes that allow me to drink in the daily visual splendor of a sunset against a blank canvas. I am grateful for ears that allow me to absorb the symphony of everyday life, while still being able to appreciate the slivers of silence in between. I am grateful for Life. And Love. Family and Friends. I am grateful to experience--truly experience--emotion. The happy and the sad. Because if I can feel, I'm alive.
Life is filled with infinite goodness, but it can also be hard sometimes. I am still nursing a broken heart and although some moments in the day allow me to feel like my old self again, I am just as quickly reminded of my reality and my family's loss. I'm not going to lie; it's hard. But I am trying with everything in me, to see only the good in everyone and in everything around me. And I am rarely disappointed, because really, it's everywhere. My heart still beats...and I love.
I love that tomorrow is Christmas Eve and that despite The Hubs and I being away from our families on the mainland, we still have one another and our own Christmas Eve and Christmas Day steeped with our own traditions, to look forward to. I love the idea that for many, these days are filled with happiness, merriment and delight...how amazing would it be if we could all carry this kind of Chosen Joy every day of the year?
* * *
Merry Christmas, friends. Or as we say it here in Hawaii, Mele Kalikimaka. Wishing you all a joyous holiday. Thank you for the love, support and friendship you have all given to me in the few short months I have been blogging here.
Love & Aloha to you all!