It has been just over two weeks since Nick's passing. In the grand scheme of things, sixteen days is a mere *blip* in time, but for me, notsomuch. It has been a L-O-N-G two weeks.
It's good to be back home on Maui; I am slowly getting back to my normal, everyday routine, but it has been hard. I have had both good and bad days. Good, when I can keep it together and not think about my grief long enough so that I can actually laugh while watching a re-run of "The Office", and bad, when sitting down to a meal with Phil and listening to him say a blessing over our food is enough to make me burst into tears. Literally. I haven't figured out why, exactly, this particular act (eating) does me in, but if I had to venture a guess, I believe it is because food is both a necessity and a gift; it provides our bodies with nourishment and pleasure, and without it, we could not survive. And then my thoughts go back to Nick and how he will never experience this simple pleasure again.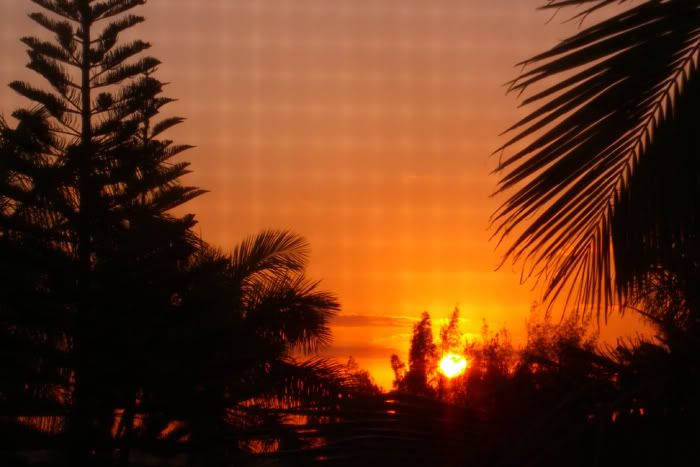 [watching the sunset from our living room window]
But things are getting better. Despite the sadness that hovers above me like a little gray cloud ready to rain down at any given moment, I still find reasons to smile, because I am blessed and my life is good. The sun still shines. I have everything I could possibly need, and I want for nothing: I have God, my husband, my family and friends, a home, a job and food. My life is filled with abundance.
And of course it helps when you have one of those serendipitous chance-encounters that take place, gently coaxing the healing process along, leaving you feeling mystified and loved and seemingly enveloped by a warm embrace from God, Himself.
* * *
I had a dentist appointment - my regular 6-month cleaning. It was a dreaded appointment that I had planned on canceling because (a): I abhor the dentist and (b): I just wasn't in the mood (not that I ever am) to have anyone tinkering around in my mouth. But as fate would have it, I didn't even have the energy to call or make up an excuse, so I rallied. And I went. And I'm so glad that I did.
It was only the 4th time that Robyn (the dental hygienist) worked on me. I don't know much about her, other than she is pleasant and makes me feel comfortable in an otherwise uncomfortable situation, which is the precise reason why I have become accustomed to requesting her. There is something very soothing about her presence.
Within the first five minutes of laying in the chair, she is asking me questions and I am half-heartedly answering them; we are exchanging the standard pleasantries of each visit. As she sat down next to me, she made some comment about "living a life with purpose", and my eyes started watering. And that is what started it.
She looked at me silently for a few seconds and said: "Oh, honey. Someone just died. Who was it?"
So I tell her in four short words: "My little brother, Nick." And just like that, I'm sobbing again.
And she actually starts to cry with me. She is hugging me and I am letting her - because human contact is necessary, and it feels good to be comforted - and I am not even caring how completely awkward/inappropriate this might look to anyone passing through the dental office. She is telling me how sorry she is and then says: "You know he's here with you, right?"
When she asked me this question, I took it as one of those spiritual, off-handed, "such is life" comments and not necessarily one in the literal sense. And so I nod in agreement, but she says it again: "No, really. You know he's here with you...right now."
At this point, we are talking like two friends; we are crying, her gloved-hands holding mine, and she is saying things that are simultaneously comforting, yet scaring me at the same time. Sensing my discomfort, she explains that there is an overwhelming aura of "trust" that she feels from me, which leaves the conduit open for her to receive these messages. And she starts sharing with me all these facts about Nick's life which are ALL TRUE, including exactly how - and what he did - to take his own life (we don't share any mutual friends, but somehow, she knew everything). She is telling me that he is so happy right now; he is free from pain and finally at peace and that as angry as I am with him (but won't fully admit to - also true), that I will forgive him for what he has done.
And the real clincher in all this is when she finally says: "He's telling me right now that you've been writing about this. And that is exactly what he wants you to be doing: to keep writing, because this is how you are going to heal. This is how you are going to help others."
Here is a woman who, only moments before, knew absolutely nothing about my personal life, but still manages to pinpoint the exact.
I wish that I could articulate how this chance-encounter makes me feel, but my words would do the experience no justice. I can only say that I am comforted in a way I did not think was possible. I am humbled that I was given this gift. And I could not help but smile while I was re-telling the story to Phil. I am happy.
I have closure.
* * *
I know my posts have been heavy-on-the-heart as of late and while I won't apologize for this, I will say that things are changing around here, and I'm excited to see where they take me. Tomorrow is a new day, where I will start something that fuels my passion for Choosing Joy.