My heart has led me back here, tonight. I did not expect to be posting so soon, but I am a creature of habit and writing has always been therapeutic for me.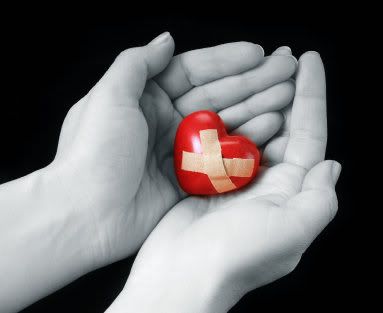 Where do I begin? It has been two days since the death of my brother; I am emotionally exhausted, mentally drained and numb (save for the massive migrane I have been nursing for the last 48 hours). I have learned how to ride the cyclical wave of emotions - moments of debilitating, jagged sobbing which are then quickly balanced by God's Grace and I am given an equal moment of peaceful silence. Though I wish they were, these feelings are no longer new to me; I have already been through this experience once before.
I grew up the only girl in a family of boys - four brothers, to be exact. Much has changed. On Mother's Day in 1996, I lost my amazing older brother Tony, to a fatal car accident. He was only 25. I don't feel it is necessary to relive the experience here in this post, but suffice it to say, the immense sadness and immeasurable grief resulting from this loss is not something I expected to experience ever again. But I did. And I am. My little brother Nicholas passed away on Tuesday and I am heartbroken.
I have spent the majority of the last two days in bed, identifying the "triggers" and consequently wrestling old demons. I recognize the all-too familiar fog of depression and sadness that threatens to wash over me, but I am fighting it with every fiber of my being. I refuse to give into it again; I so desperately want the healing process to be different this time around. And this valiant effort of mine, though ungraceful and peppered with moments of resigned weakness - it's a mere faint bit of hope but all I have within me right now...and certainly, something is better than nothing.
Despite my conscious shift in perspective, I am still human. It has been only two short days and sorrow doesn't have to go very far to find me. Sorrow finds me in the shower, when I am shampooing my hair and I am suddenly struck with a wave of heartbreak that brings me to my knees. Sorrow finds me in mid-conversation with Phil; he put a bowl of soup in front of me last night, coaxing me to "please, eat something" and I picked up the spoon, only to then promptly sob right into the bowl. Sorrow finds me at the mailbox, when I see the latest issue of Runners World magazine and I am reminded of a conversation Nick and I had comparing mileage. Sorrow also finds me late at night when it is dark and quiet, weaving itself into my thoughts so that I can do nothing but lie awake, counting the hours until daybreak while the rest of our neighborhood is slumbering soundly. Sorrow weighs heavily on my heart.
But where there is Sorrow, there is also Love.
Love is in the countless emails, texts and Facebook messages I have received from the most amazing and supportive friends all over the world. Love is in our kitty, Grace, who curls up in my lap and purrs while I cry. Love is in every moment throughout the day when I pray to God for strength and He answers me, enveloping me in tangible peace. Love is in the dear friend who called me all the way from Israel and cried with me. Love is in the precise moment of 4:15 a.m. this morning, when I awoke sobbing (because Sorrow still finds me in my sleep) and The Hubs, though he could have just reached over, instead got up, raced around to my side of the bed and crawled under the covers to spoon me while I wept. Love is everywhere, in everything. And I see it so much more clearly this time around.
In Sorrow, Love Abounds.
* * *

Thank you all for your incredibly loving and supportive words (especially to you first-time commenters). I so deeply appreciate your kindness and your prayers; you have no idea how comforting they have been for me to read.