Ten years ago today, we were on a beach, here in Hawaii. Phil had taken the initiative and booked us a trip out here to celebrate my birthday. Today, it still ranks as one of my favorite trips...ever.
"Before we go to dinner, let's take a walk on the beach", he said. So we showered, got dressed and left our room, letting the heavy hotel door close behind us.
Leaving the air conditioned hotel lobby, we stepped outside and were immediately enveloped in warmth and humidity. The night was young; the sun had set only an hour before, but the air was still heavy and damp from the heat of the day. He grabbed my hand, lacing his fingers through mine and led me down the paved pathway of towering palm trees, towards the beach. We crossed the neatly manicured lawn and the rows of hibiscus until we were met with the warm sand between our toes. Making our way to the water where the waves rolled lazily onto shore, we meandered the length of the empty beach, settling into the rhythm of easy conversation.
He started by telling me how much he loved me; how much his life had changed for the better, simply because I was in it. He went on to tell me that he could imagine us together, years down the road, when we were old and gray, as happy then as we were at that moment. I remember looking up at him and smiling, my belly filled with the familiar butterflies he has managed to give me since our first "date" back in 1992 when we were just a couple of kids. And I ate all this sweet talk up with a spoon, because what girl doesn't like to hear words of sentiment from the love of her life? I was completely oblivious to what this all foreshadowed.
And when he stopped walking, turned to me and took both my hands into his, it hit me in an instant...I understood. The rest was a blur - when he knelt on one knee, everything went quiet; it was as if the world was on pause, giving us this moment together, just the two of us.
Oh, how I wish that I could remember the poetry of beautiful words he said to me right before he asked me to be his wife...but for the life of me, I can't. I don't remember much because I was so completely swept up in the moment; so filled with love and joy and happiness and adoration. I cried. He cried. And it wasn't until long after I'd said "Yes" and the tears had stopped that I was finally able to admire the most beautiful piece of jewelry he so painstakingly researched and picked out on his own. My man did good. :)
One of my favorite photos of the two of us and the only photo from that day: lunch at the Aloha Tower Marketplace. I'm lovin' the vintage feel to the photo and the fact that we both look like kids; it's a beautiful reminder of our history together...our love, our youth and all the years in between.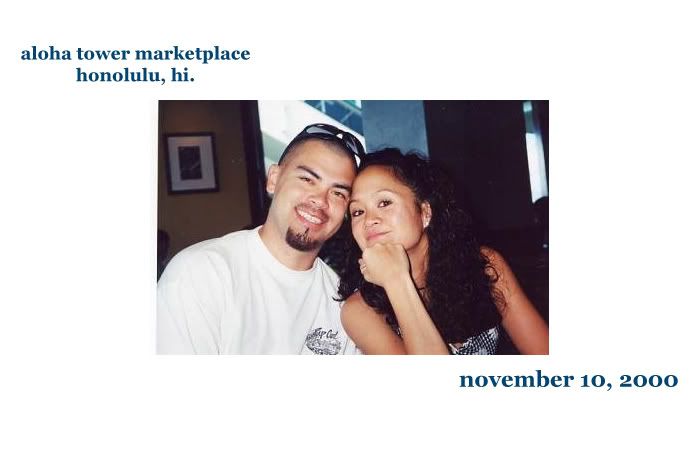 Ten years ago today.
If you haven't already, FALL IN LOVE. I highly recommend!