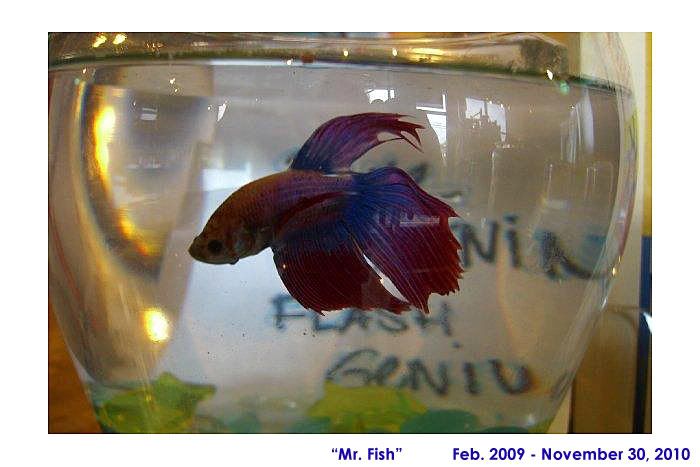 My (work) morning began in a puddle of tears. My "Mr. Fish" is no more. Fortunately, The Hubs was right there to console me (um...did I forget to mention that we also work together? Well, not actually together, but our offices are down the hall from one another) and it helped, but I am still sad. I knew this day was looming, as Mr. Fish was no longer swimming happily but spending more time at the bottom of his fishbowl as of late.
The thing is, I didn't even want this fish. A previous employee had the dumbass idea and thought it would be fun to "get a fish" and perhaps pair him up with another beta so that they could fight one another. Um...NO. And I knew she wasn't really all that interested in him to begin with; after a week, the novelty of his presence had worn off and she'd forgotten about him. So of course I stepped in and adopted the little guy, cleaning out his bowl every week, feeding him, and even going to great lengths of feeding him little bits of green pea when he was constipated and couldn't poop (yes, this is for real - Google it!...they can get backed up and peas work like a laxative). He was a sweet fish.
So anyway. I'm sad. I washed out his bowl this morning for the last time.
Swim free, Mr. Fish. Swim free.