Ahhhhhh. The lazy weekend that follows Thanksgiving is always a welcome reprieve from the nonstop activity surrounding the holiday. Especially when you've eaten your weight in all the trimmings and suffered multiple food comas enough to surpass even those with the most voracious of appetites. While we are no longer eating leftovers, we are still taking delight in the unabashed feeding frenzy, because this is a freebie weekend (or so I tell myself).
The Hubs and I stayed on-island this holiday; although we missed our family and friends on the mainland, we were blessed to spend the holiday with friends who feel like family...and we ate to our hearts content.
Never oblivious to how fortunate we are on so many levels, Phil & I still wanted to do something a little different this year to pay it forward and express our gratitude for all that we have.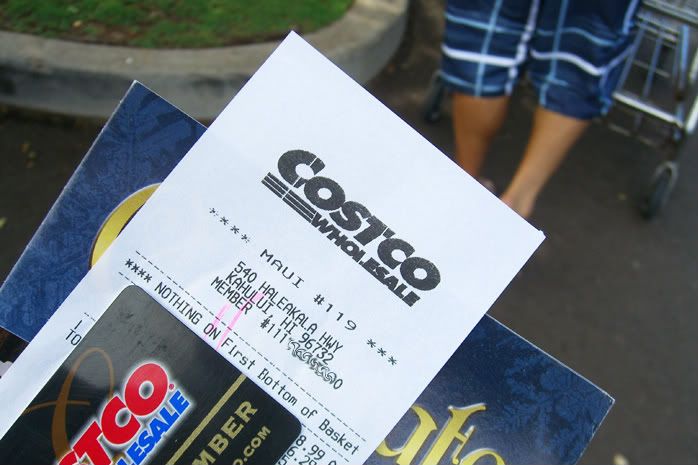 Phase I of Operation: Filling Bellies began with a trip to Costco earlier in the week to pick up much-needed food for our furry, four-legged friends; we purchased the food and dropped it off at our local chapter of the Humane Society.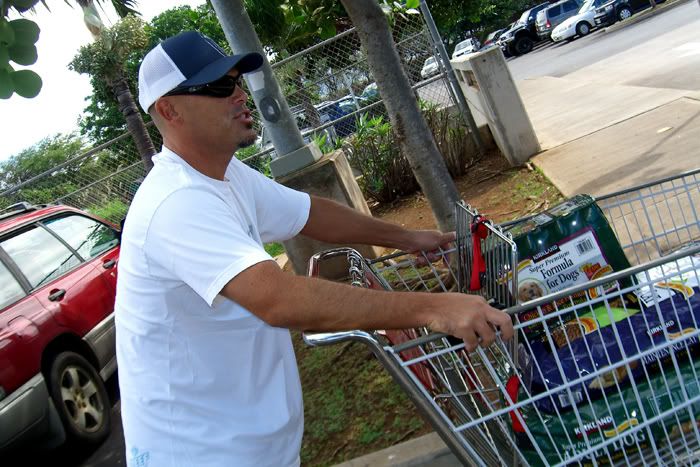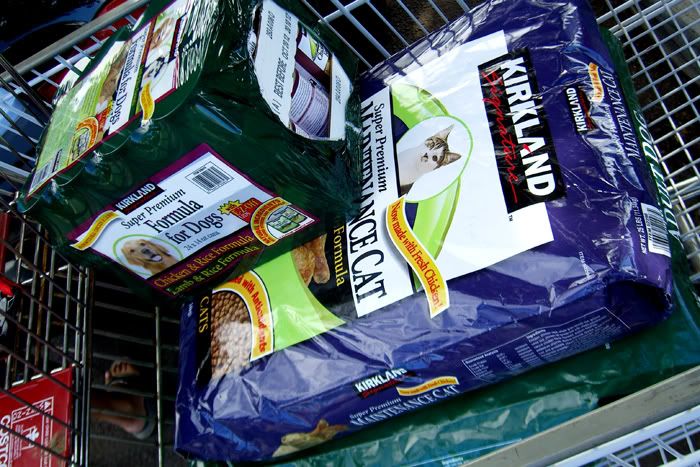 Beforehand, Phil had already established that we would not be paying the animals a visit, lest I leave a blubbering mess - or worse - with a puppy in tow. He knows me all too well...and so I conceded. We dropped off the food and drove off in silence; each of us a little worn down emotionally from the incessant barking and howling of the dogs in their kennels. Really...it was bittersweet; I cried about it afterwards. I don't want this to be a political post by any means, so this will be the only time I will ask: if anyone reading should feel so inclined as to make a donation, it would be much appreciated. For the record, this is NOT a no-kill shelter; the only way to change this is to increase adoptions and in order to do this effectively, MHS needs funding to advertise and to continue with mobile adoptions, where they spend days in busy shopping centers or at local pet stores, bringing adoptable animals out in the public eye. Make a friend for life...adopt a pet!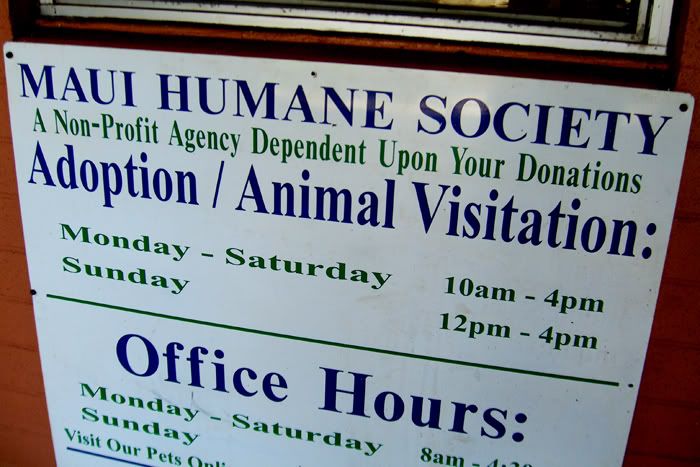 Phase II of Operation: Filling Bellies took place on Thanksgiving morning. The Hubs and I made a bunch of bagged lunches to distribute to some of the homeless on the island. As much as we would have loved to make a real Thankgiving feast for the needy, time prevented us from actually doing so. But still...turkey sandwiches are a pretty good runner up, wouldn't you say?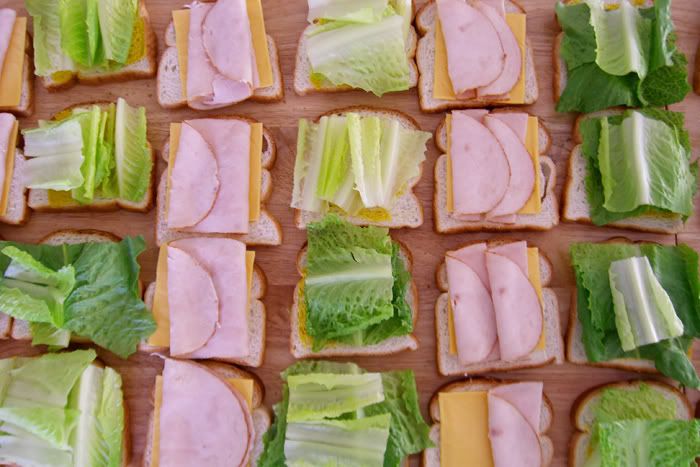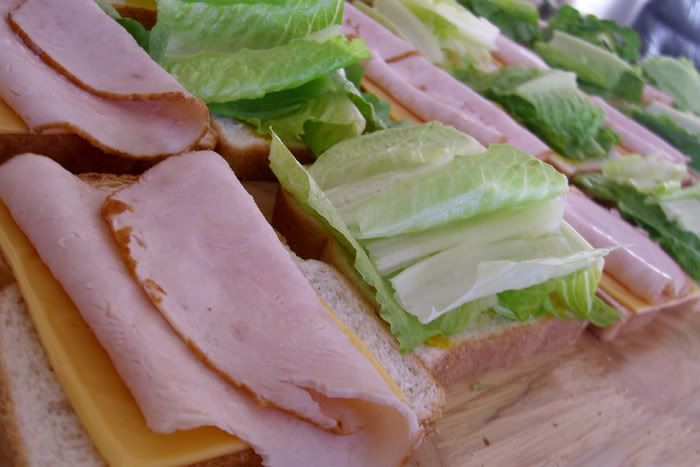 We had our two-man assembly line going in the kitchen, where we made sandwiches and put them in lunch bags with a soda, chips and sugar (because sugar is always fun!). Admittedly, this wasn't the healthiest of lunches, but again, it was a freebie weekend for all. And besides, it was put together with love, so it's our hope that each of our recipients felt it.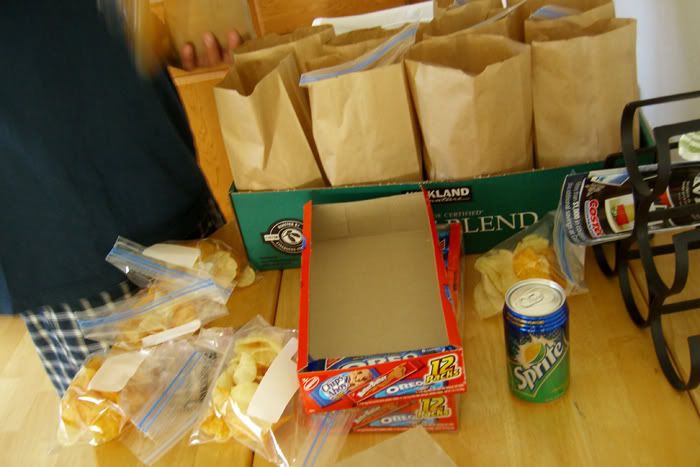 (Ha! A shot of my cute Hubs in his PJ's. :)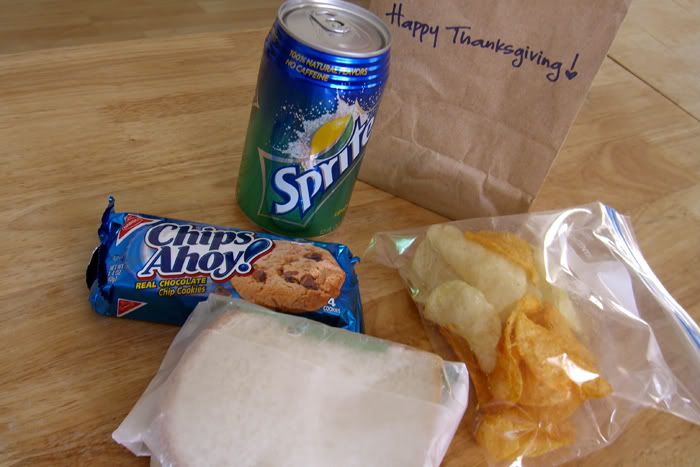 Afterwards, we loaded up our bulk boxes and drove into town to distribute the lunches: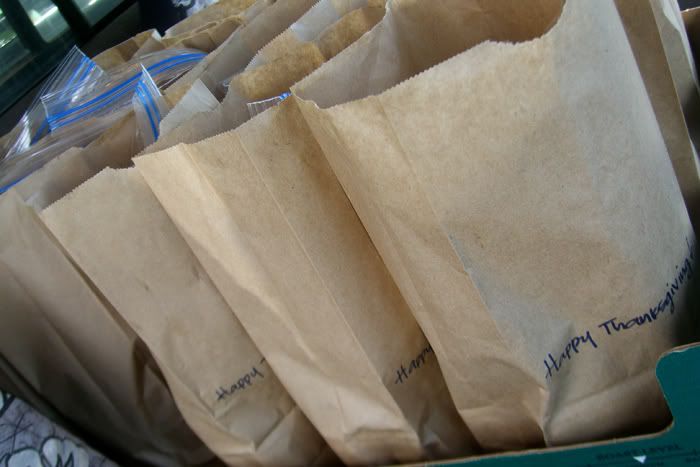 In the evening, we went to our friends house and sat as two among a table of twelve, toasting to the traditional feast before us and each taking a turn to give thanks for our lives...everyone and everything in it.
It was a beautiful Thanksgiving!
How was yours?