Aloha, friends! I'm back in the saddle and feeling human again. I spent the majority of the last 4 days in bed, logging in copious hours of sleep; clearly, I was in need of rest. Our bodies are amazing machines, finding ways to tell us what it needs and rendering us useless when we fail to heed the warning signs. (Duly noted, body. Thank you.) I'm feeling so much better...not yet 100%, but definitely better.
I have been wanting to post about an act of kindness that arrived in the mail recently; it was a gesture that warmed my heart and I am still filled with gratitude for the wonderful blessing of friendship.
Hands down, the greatest gift I've received through the act of blogging are the friends I've made along the way. When the internet became "the next best thing since sliced bread" and message boards and online journaling became more mainstream, I jumped on the LiveJournal bandwagon and began blogging. That was almost a decade ago, and it thrills me to have formed online friendships with some exceptional and phenomenal women out there. Some of these girls I've had the fortune of meeting in person ( it was the coolest experience to book a flight to New York a handful of years ago to meet up with 5 girls I'd never met in person, but whom I'd come to know and love over the years)...but for some, I still look forward to that day.
My friend Becki is one of these amazing women. Becki and I became blog-buddies back in 2002 and although we have yet to meet in the flesh, I feel as if I have known this girl forever. She gets me. We have exchanged long, essay-like emails over the years, many of them centered around our shared Christian faith and I count her among one of my dearest friends. She is warm, supportive, loving - all the qualities you hope to find in a real friend.
Knowing my love for fall foliage and the lack of such pleasures out here on Maui, my beautiful friend hand-picked and packaged up some of the prettiest leaves from New York and mailed them to me, complete with a calendar and Psalm daily planner. When I opened the box, the beautiful scent of Fall surrounded me, enough so that if I closed my eyes, I was momentarily transported to the East Coast.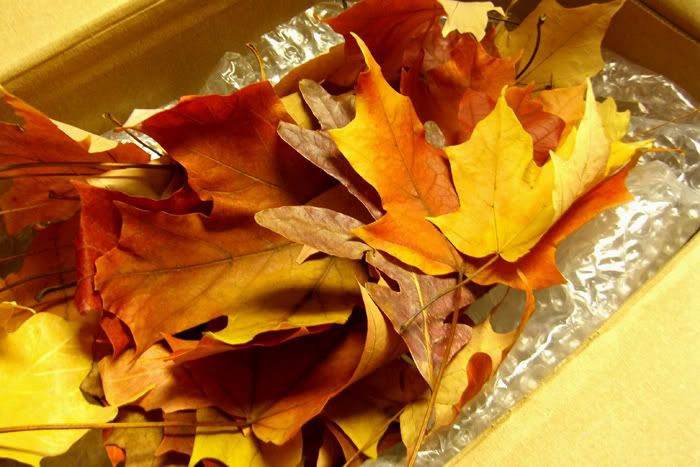 Even Grace enjoyed the goods!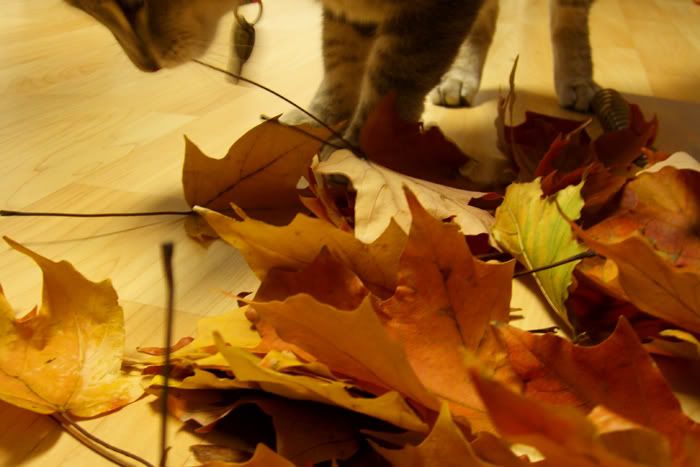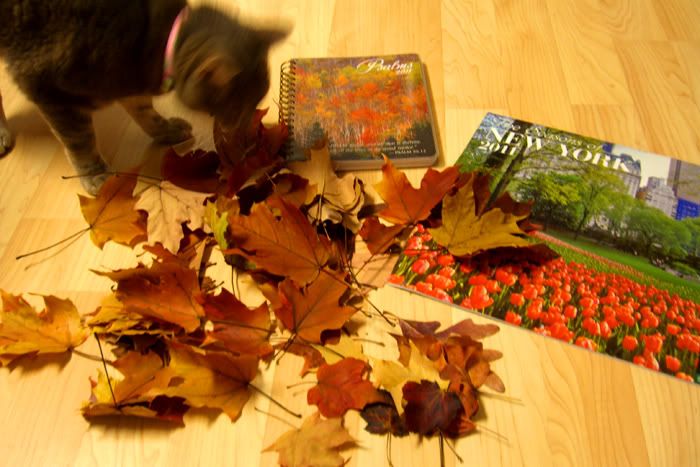 I filled a hurricane vase with a handful of leaves, where they nestle against a vanilla scented pillar candle, burning brightly and happily, despite The Hubs' inquisitive remarks: "Um...isn't that a serious fire hazard?" :)
...and I pressed a few in between the pages of my bible, appropriately marking Proverbs 17:17.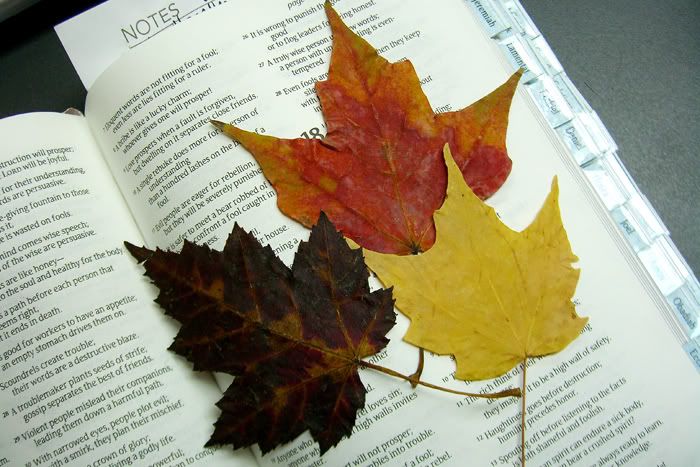 The leaves are ripe for the crunching, so later this week you can bet I'll be taking them outside so that I can satiate the urge to hear the satisfying crackle beneath my feet.
Thank you, Becki. I love you and I am blessed to have you in my life!
Call a friend or send a letter (hand-written notes trump email any day of the week) to tell them you love them. Friendship is a beautiful thing!