Did anyone hear about this? The Worldwide Moment: 10-10-10 @ 10:10am GMT. I knew nothing about this until a friend of mine texted me yesterday, asking me if I was in. I'm a total softie when it comes to feel-good, heart (and art) inspiring, people-banding-together-for-good, moments of togetherness, and after I did a little research on their web page, I thought: Hell yeah, I'm in.
In a nutshell, it's a simultaneous photography event to create international peace, art and cultural awareness. This is the 7th year in a row that they've done this (last year it was done on 09-09-09 at 9:09am); at precisely the same moment around the world, we were supposed to snap a photo at exactly 10:10am, Greenwich Mean Time. Clearly, it would not be 10:10am for everyone (so you had to check for corresponding city/time zones), but to know that so many people around the world were snapping a photo at that exact moment? That idea alone...it makes me smile. :)
10:10am GMT meant it was 12:10am for us on Sunday. Completely spent from the day, by midnight, we had already retreated to bed. We would have immediately fallen asleep had it not been for my need to stay awake for another 10 minutes to actually make it until 12:10am! The Hubs laughed at me and my attempts to take the photo while laying down, limbs extended, blood rushing to my chest and the pins-and-needles effect on my arms as a result. But I got the photo at 12:10am...that's all that really mattered!

My photo for 10-10-10 @ 10:10am GMT: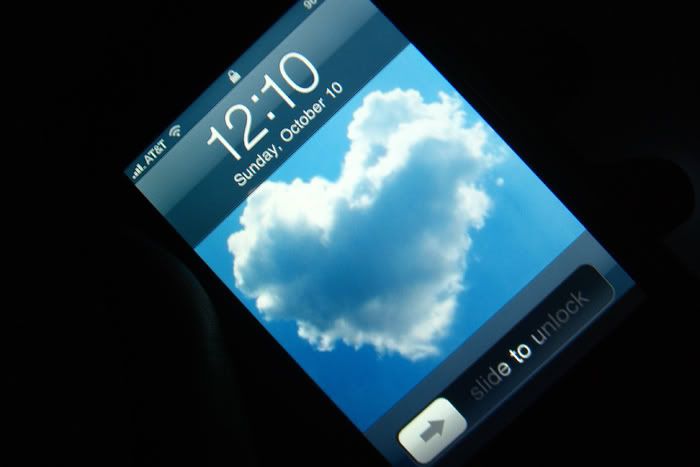 * * *

It's kind of a neat moment to think about; after 2012, we won't have dates and times like this to experience. So next year, on 11-11-11, spread the word. Wherever you are in this world, snap a photo at 11:11am GMT. Get involved.

ETA: My photo has been sitting in a queue waiting to be published, and it's finally up! Check out their gallery...pretty cool shots!