I never thought I'd catch myself saying this, but despite my collegiate fascination with the urban lifestyle (SFSU Gators, baby) and those impressionable, eager years when I convinced myself that donning a business suit with swanky shoes and taking a train into work meant success (?!), deep down at the core of my being, I have always been a country-girl at heart. Yes, I can still be momentarily seduced by pretty handbags and red-soled shoes, but I'll take my flip-flops, tank tops and flowy, cotton skirts over those any day of the week.
Back in The Bay, we had views of neighboring apartment complexes...and roadways with non.stop.traffic. Here, we have a view of the ocean from our front door, and views of rolling green hillsides (with horses and goats and cows - oh my!) from every other window throughout the house. Back in The Bay, we fell asleep to the sound of traffic. Sirens. Horns. And the awful, hourly railroad-crossing bells of CalTrain (fun). Here, it's not unusual to fall asleep to the tinny-drum beats of passing rainshowers on our roof.
There is a tangible, small-town feel to living on this part of the island; not in the everyone-is-all-up-in-your-business kind of way, but in that relaxed and easy way where you catch yourself smiling and waving at strangers "neighbors". And I really like that. People need to smile more. And a friendly little wave doesn't hurt, either.
Driving home today, I smiled at the sight of this and (of course) pulled over: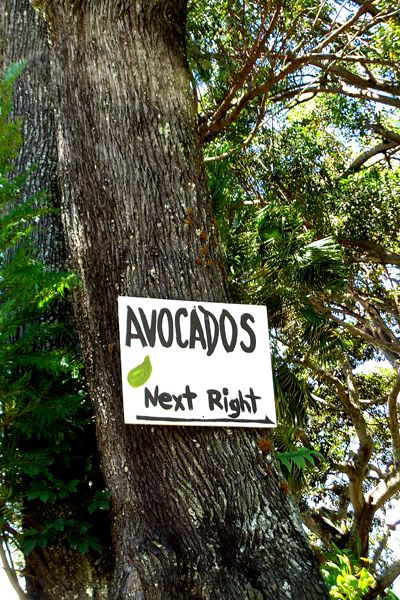 A lone stand on the side of a country road.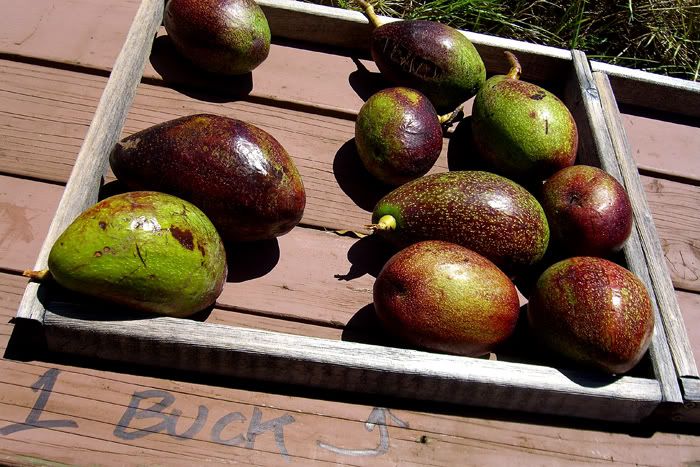 With avocados at least two-times the size of my fist (you think I'm kidding, but I'm not)!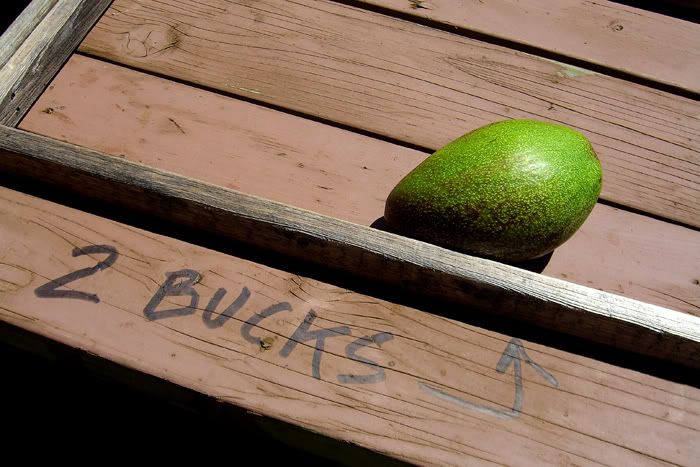 And a payment box that isn't even bolted to the table.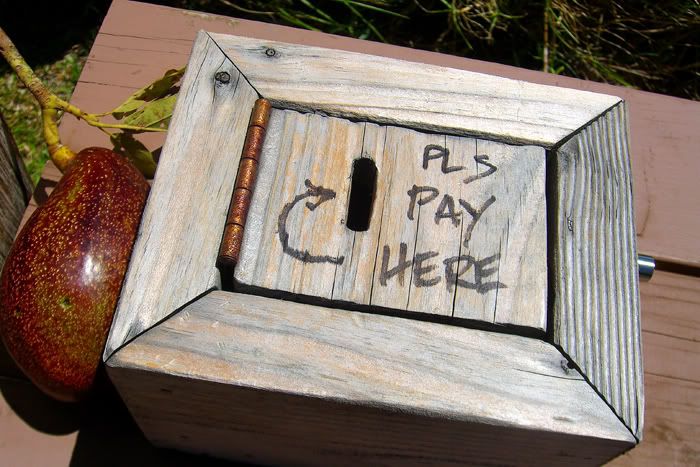 See? A perfect example of what I deem a perk of living upcountry. An un-manned fruit station.
Blind trust.
The Honor System.
I love that people still believe in the good in one another. It makes me want to hug the person who owns and runs this stand.
While I have fond memories of our "old" lives back in SF, I'm really digging on our new experiences and the memories we're making out here every day. Our priorities have shifted; we're continuously striving to adjust our motives and our actions so that they exist in harmony with our desire for a meaningful life together.
I love that for the most part, everyone really does live on "Island Time" out here. It might be slow--and it definitely isn't for everybody--but if a little peace and quiet is what you're after, then Maui is a pretty good place to be.
* thank you to those of you who read my half-marathon musings and commented; I really appreciate that. Diagnosis isn't good - I went in for X-rays this morning and the pain in my foot IS a stress fracture, and I'm officially OUT of the half-marathon on Sunday. No running for 4-6 weeks, Doctor's orders. I'm completely crushed by this and yes, I cried. Again. But a pep-talk from The Hubs and a consolation prize by way of chocolate helped. And I'd much rather nurse a bruised ego than a broken bone. Ya dig?