I am not ashamed to admit that I covet all things Pottery Barn...but this poses a number of problems:
(1) We don't have a Pottery Barn here on Maui.
(2) I have a really hard time paying for things at prices like theirs.
(3) Even if I were willing to pay for something from their catalog, it's kind of annoying that they tack on an extra $10 for all HI shipments. Booooooooooo!
So they leave me no choice but to find a less-expensive alternative! My inspiration was their oversized wine bottles (ranging from $99-$279. Hilarious!); I love the idea of using them to hold simple greenery: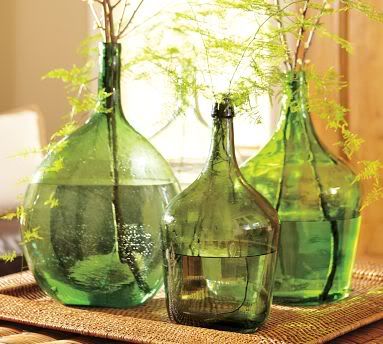 After searching for large bottle-neck vases at affordable prices with no luck, I decided to check out one of our local thrift stores to see what they might have.
SCORE.
They didn't have exactly what I was looking for, but what I did find, I liked even better!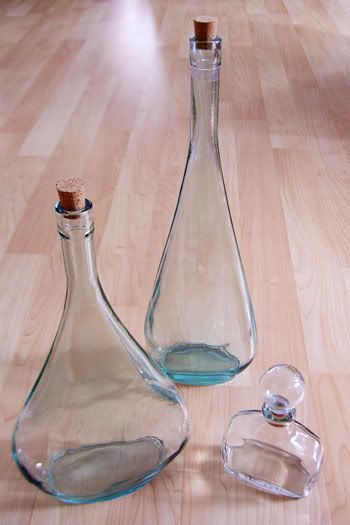 WOO to the HOO.
Wanna know how much I paid for these bottles?
Try a grand total of
$6.00
. That's right, six bucks, baby! And while the littlest bottle isn't exactly "oversized", it was still too cute to pass up.
Man alive, there are some great deals to be had at these thrift stores. I almost felt guilty for their dirt-cheap prices. Almost.
Off to find some pretty greens this weekend to fill them...