Almost a year ago to the day, I bought a brand new pair of running shoes, drove over to our local gym and signed up for a membership. The result of a sudden surge of motivation, I knew I needed to make some changes in my life because I had spent the two years prior kind of coasting along and letting my recent shoulder surgery carry the blame for my lack of exercise. Consequently, healthy eating habits fell to the wayside; I spent far too long in my comfort-zone, allowing myself extra hours in front of the computer/television and eating with delightful, reckless abandon. As freeing, enjoyable and liberating as this period was (and trust me, it was gooooooooooood), it also showed. Naturally, I gained a few pounds, but it wasn't necessarily the additional weight that bothered me...the sense of lethargy and general malaise, did. And so I made a decision. I remember the precise moment I turned over a new leaf (for the curious: we were BBQ'ing on our deck and The Hubs commented that a gym membership might actually be cheaper than my weekly Physical Therapy appointments that weren't exactly doing anything for me anymore). Oprah and Fans might refer to this as an "aha" moment, but for me, it was like coming face-to-face with motivation in its' purest form.
I started out strong. I met with a personal trainer, went on a strict diet, rekindled my long-lost love for running and in two months, dropped 20 pounds. I started running 5K's and have since added eight 5K-races to my athletic resume.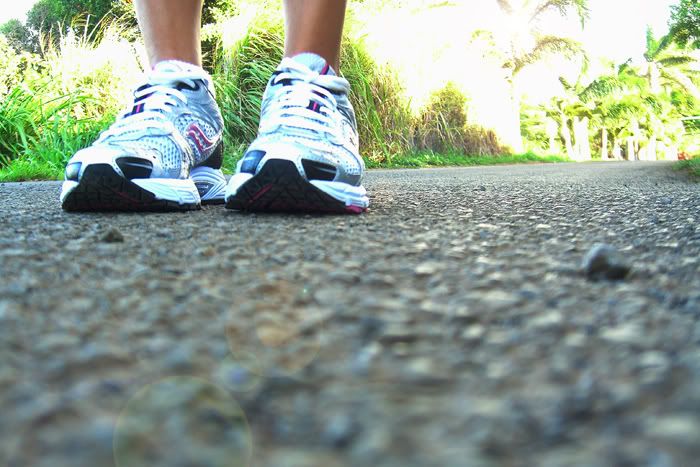 And then on a warm, January morning, coming down from a high of having run another 5K and setting a new PR, I arrogantly decided that one of my goals for 2010 would be to run the Maui Half Marathon on September 19th of this year. I was giddy with excitement and apparently feeling bionic (bullet-proof, even), because I freely shared my newest endeavor with family and friends.
Training went off without a hitch; I was running monthly races and setting new PR's. I was steadily building mileage, eating healthy, continuously losing weight and feeling in the best shape of my life. And then it happened. ---> (insert foreboding music, here) I got comfortable. And cocky. And then I started slacking. My 6-day a week (!) gym visits dropped to five. Then four. And sometimes three. And then none, because I soon found myself flat-on-my back for a week with the flu after traveling with The Hubs in early Spring.
Summer arrived on schedule. And while I was still running, I wasn't nearly as dedicated as I'd been in previous months. To make up for sporadic gym visits, I pushed myself harder - and faster - than I should have, adding mileage but not allowing my body to recover and rebuild. And as a result, this did more harm than good; I've since begun harboring all these aches and pains which have kept me from advancing in my training and threatening a last-minute withdrawal from the run I have spent the last nine months planning for.
So here I am, the half-marathon less than two weeks away and a mirage in the distance, and I am scared, people. I lay awake at night concocting horrific, hypothetical scenarios in my mind, knowing allthewhile that this is a far cry from what creative-visualization is all about. The Hubs has been so loving and supportive, reminding me that there's no shame in listening to my body and pulling-out, but my dumb-ass ego is in overdrive, telling me "DUDE. You already paid the $75.00 registration fee. Just run the damn race and get your medal, already."
I am struggling with fear...and shame. The fear of failure, the shame of quitting something I've barely started. While I know (and have accepted) that my goal time is virtually unattainable at this point, I have a hard time embracing the idea of just running for the joy of it. Running with the intent of completion, and not running to hit a specific time.
I've lost two toenails in the name of training. At present, my long-runs consist of distances just short of 10 miles. I've been anticipating this day for the last nine months...and I am positively CRUSHED at the possibility of NOT running. There is residual pain in my right knee (an old injury of a dislocated kneecap) and a slight pain in my right foot (stress fracture?) when I run. And I don't know what to do with all this pressure and disappointment.
Ugh.
edited to add: OK, I just had my first official meltdown, and yes, I do feel better. :) The Hubs (my soundboard and pillar of strength) has my back and has promised me that even if I choose not to run next Sunday, he'll still give me a medal, anyway.
Love him.