It is Monday and The Hubs and I are coming down from a busy weekend filled with good food and the company of friends. As much as we love evenings when we can open our home up to our friends, filling their bellies with food and their hearts with laughter and love, there is that sweet spot of the aftermath: when the empty bottles are recycled, the dishes have been washed and our little home is quiet once again.
This weekend, we hosted a dinner in honor of a good friend of ours who is moving back to Japan. I am sad when I think of him leaving, but so happy that we were able to do this for him. Our Saturday was filled with last minute errands, a deep cleaning and re-organization of the house (aimed towards that oh, our house always looks this put-together-kind-of-way) and hours spent in the kitchen and near the stove. And although exhausted, I still caught myself throughout the night, smiling at the sight of our friends in our living room, hunkered down around the coffee table, eating, talking and laughing. Laughter is a beautiful thing.
And now it is Monday. We've had 24 hours to recuperate, get the house back into its normal state and just unwind. It is quiet, Pandora sings throughout our home, I am enjoying a glass of Pinot Grigio, and feeling...happy.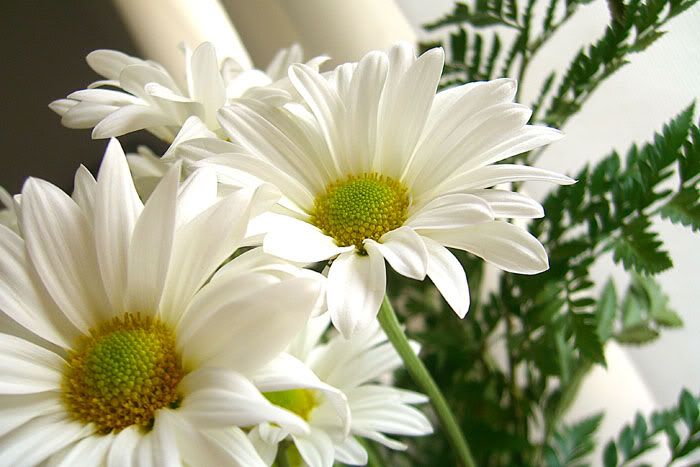 I'm leaving a photo of my "extravagant" floral purchase for Saturday's dinner. That's right...daisies. Flowers that are so easily overlooked for their simplicity. Here in Hawaii, I could have opted for Tuberose, or Bird of Paradise, or Hawaiian Ginger...but no, I chose daisies. Why? Because daisies are so underrated! They are simple. Pure. White. Clean. And beautiful. And they last forever, which is good for someone like me, because while I love me some fresh flowers just as much as the next girl, I'm not much of a green thumb. Longevity is appreciated in this home! :)
Here's hoping each of you had a delightful weekend of simplicity...