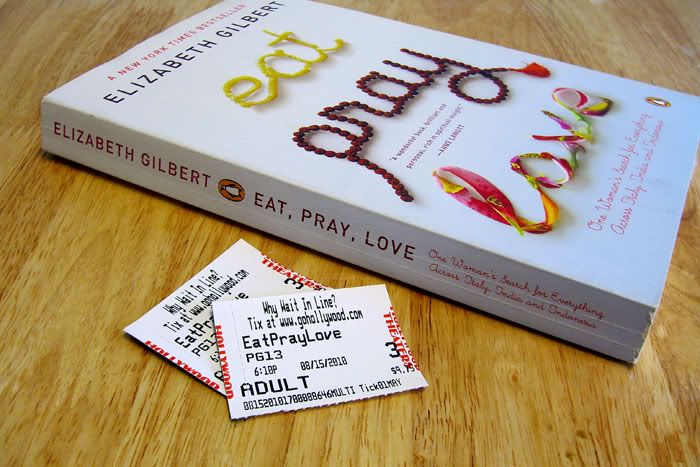 Okay, who saw it this past weekend?
Seeing as how this is one of my favorite books ever, I have been anxiously awaiting this movie all summer. I must be living under a rock, because I had no idea they were even making it into a movie up until a few months ago when The Hubs told me about it (and of course, at the time, I made him promise to take me when it came out).
The Hubs kept his word and he took me to see it last night; armed with popcorn - nevermind that I wasn't even hungry - (is it just me, or isn't it like, a crime to see a movie without having a ridiculously priced bag of butter popcorn to go with?), we settled in for the flick.
I don't want to spoil it for anyone who hasn't seen it yet, but suffice it to say, I WANT TO TRAVEL (fortunately, The Hubs and I are on the same page with this thought; we're actually in the midst of planning a big vacation for next year, so it's a start). And while we're "in Bali" and I'm crying alongside Julia Roberts (because I have no shame), I couldn't help but laugh when The Hubs leaned over and whispered:
"You would sooooooooo get chewed up by mosquitoes out there."
Ladies and Gentlemen...My husband, the realist (I'm allergic to bug bites). Love Him. :)
Hope everyone had a happy weekend!